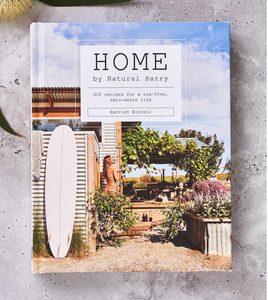 A comprehensive collection of DIY recipes, tips, tricks and hacks for a calm, resourceful and tox-free existence, and a modern reference for anyone who wants to reduce their plastic waste and save money/the world at the same time!
Home by Natural Harry has seventy simple and sustainable recipes offer natural ways to care for every room in your home. Stain remover in the laundry, shower cleaner in the bathroom, dishwashing liquid in the kitchen. It presents easy alternatives to store-bought cleaning products, as well as a comprehensive chapter on body care (from toothpaste to shampoo to foaming hand wash).
A short list of ingredients is all you need to be able to make every single home cleaning and body care recipe in this book. With recipes for everything from shampoo to body butter and bathroom cleaner to candles.
I have also included a handful of my favourite money and waste-saving kitchen staple recipes, including oaty seed loaf, coconut yoghurt and pickled veg.
Celebrating a slower, more frugal and thoughtful life Home by Natural Harry is full of recipes, tips, hacks and a handy guide on stocking your cupboard.  The perfect guide that makes it easy to do what's good for your home, your body, your wallet – and the planet. Trust your ingenuity and make the leap.